$

50.00
Set of Five Hot Sauces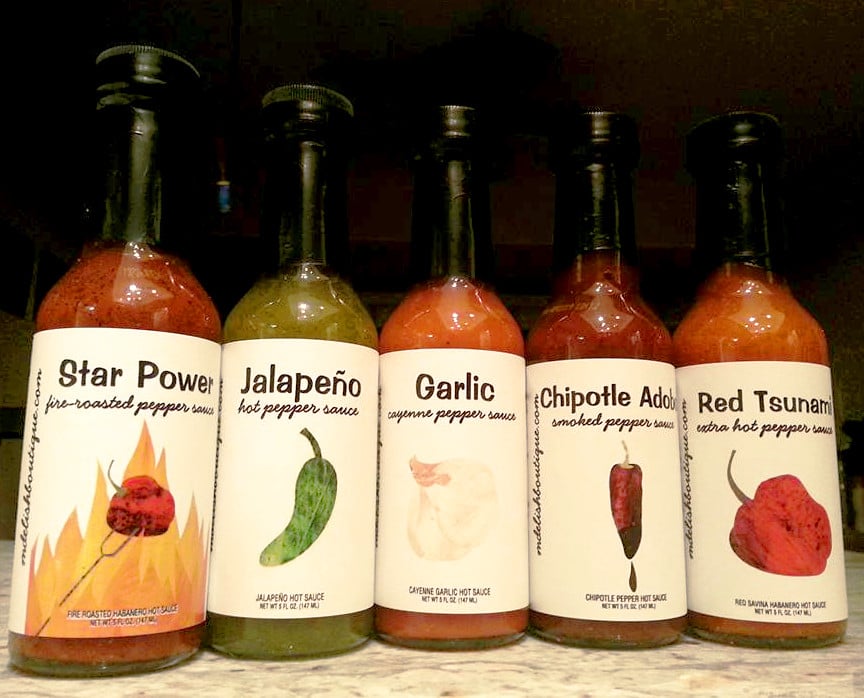 This listing is for a full set of M Delish Boutique Hot Sauces, including:
- Star Power Fire-Roasted Pepper Sauce
Fire roasted habaneros combined with spices to give this a good kick and a bit of ...fire, which makes it a medium to high heat. But a little goes a long way so go for it!
- Red Tsunami Extra Hot Pepper Sauce
The hottest of all peppers, this is also the hottest of all M Delish Boutique sauces. So either use sparingly, or be ready for the real deal!
- Chipotle Adobo Smoked Pepper Sauce
Made from chipotle peppers. Stewed in a flavorful adobo sauce, the peppers provide an intense, smoky, hints of sweet flavor that with a touch of citrus. Medium heat.
- Garlic Cayenne Pepper Sauce
This sauce is for garlic lovers, and although quite bold in flavor, is medium in heat.
- Jalapeno Hot Pepper Sauce
Basic good old jalepeno with lime, pepper and a bit of garlic. Classic, with a low to medium heat.
Each bottle is Net Weight: 5.0 FL OZ. (148ml). Beautiful custom label artwork. This set makes a fabulous gift or individual stocking stuffers. If you have a spicy food-lover in your life, look no further!